Azzedine Alaïa is a unique classic of modern fashion, who is put on a par with Hubert de Givenchy, Yves Saint Laurent, Cristobal Balenciaga and other great couturiers. The collections he created were real works of art – man-made masterpieces that will forever remain for centuries and will be studied by descendants as magnificent creations of one of the best masters of fashion art.
Azzedine was called 'The King of Cling', he was the first to use elastic materials that seductively outlined the contours of the female body, as well as a corset made of fabric, inspired by his beloved XVIII century. He dressed his models in tight skirts: short or medium length, giving the female body a perfect shape.

Each couturier's dress was a hymn to femininity, sophistication and beauty. He created his miracles like a sculptor, working with fabrics right on the mannequin – he liked to do drapery and design.
Modern cult designers have repeatedly expressed that the magnificent garments of Azzedine Alaïa will forever remain for them a symbol of femininity and elegant sexuality, and they will refer to his archives, to be inspired by his works to create their own collections. Like the sculptures of Michelangelo and the canvases of great artists, the designer's collections are immortal and timeless.
Alaïa's philosophy is about creation of clothing and accessories that make women beautiful and exalt female forms. As a tribute to the great master who knew how to create perfect feminine images, the Alaïa fashion house launched a collection of sunglasses which showcases splendid vintage silhouettes including oversized models that are always in vogue.

The shapes, colors and textures of the sunglasses introduced in the collection are the quintessence of the aesthetics created by the great couturier.
AA0041S
Soft square-shaped model fashioned from high-quality acetate. These sunglasses feature sophisticated design in a retro style. Temples are embellished with handcrafted petal pattern enriched with tiny metal studs. For bold, elegant and expressive image.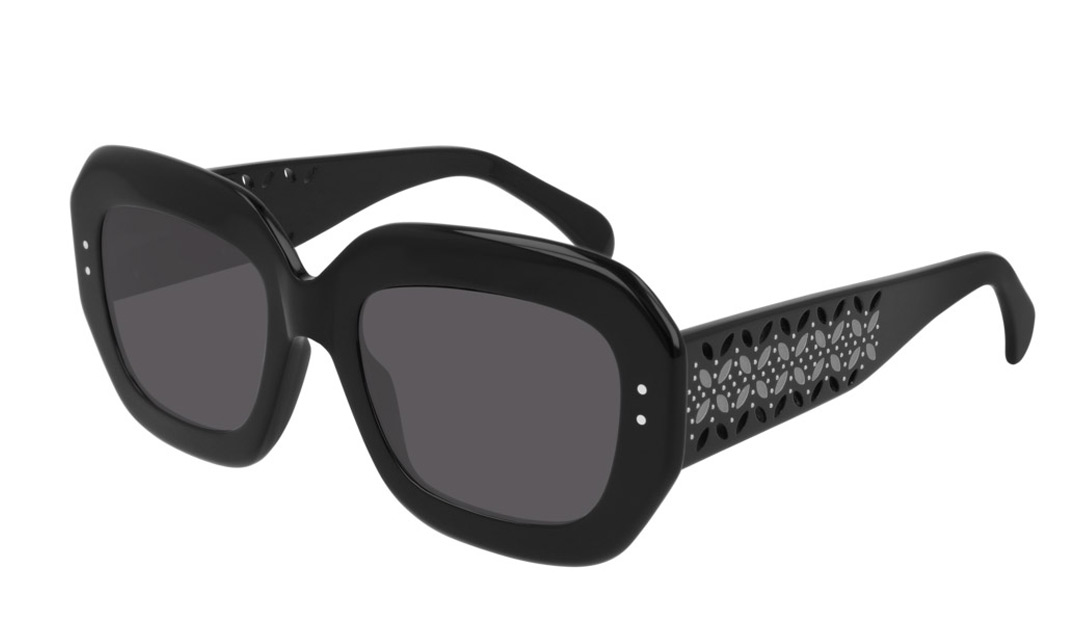 Get Azzedine Alaïa sunglasses AA0041S here
AA0032S
The round-shaped rimless model features elaborated decor and meticulous handmade craftsmanship recalling the couture inspiration. Micro-studs form unique arabesque ornament on lens profiles which looks very exquisite and lovely. This refinement will suit you for sure!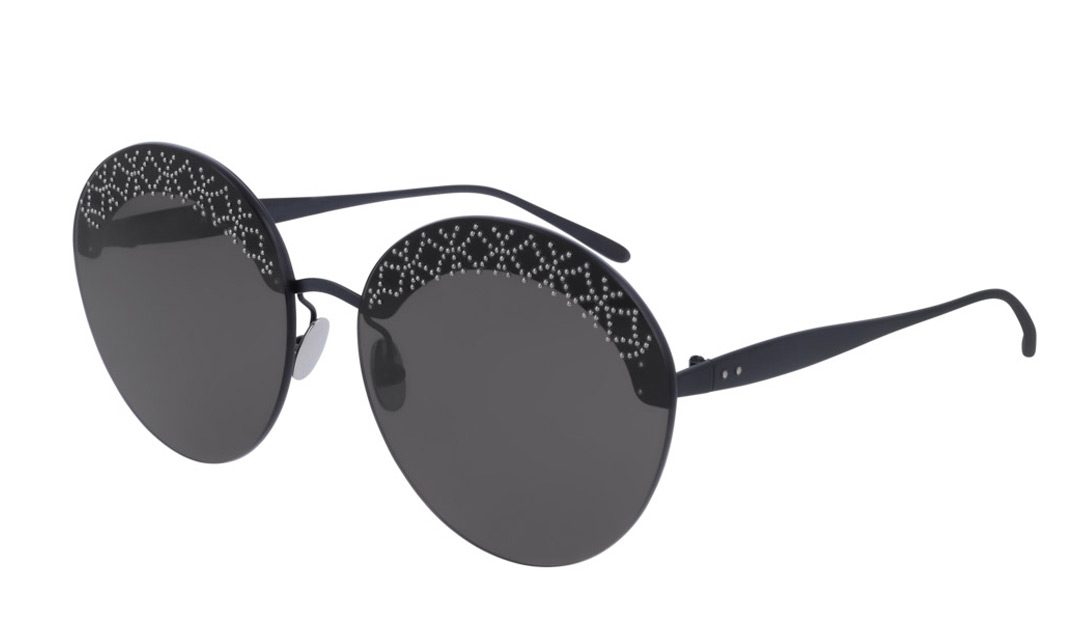 Get Azzedine Alaïa sunglasses AA0032S here
AA0029S
This rectangular model is a fantastic combination of the cutting-edge design with a vintage touch. Silver eyelets are carefully applied on the bold temples. The sunglasses are made of the high density acetate to provide conspicuous design. Choose from the most trendy color options including black, white, havana and blue.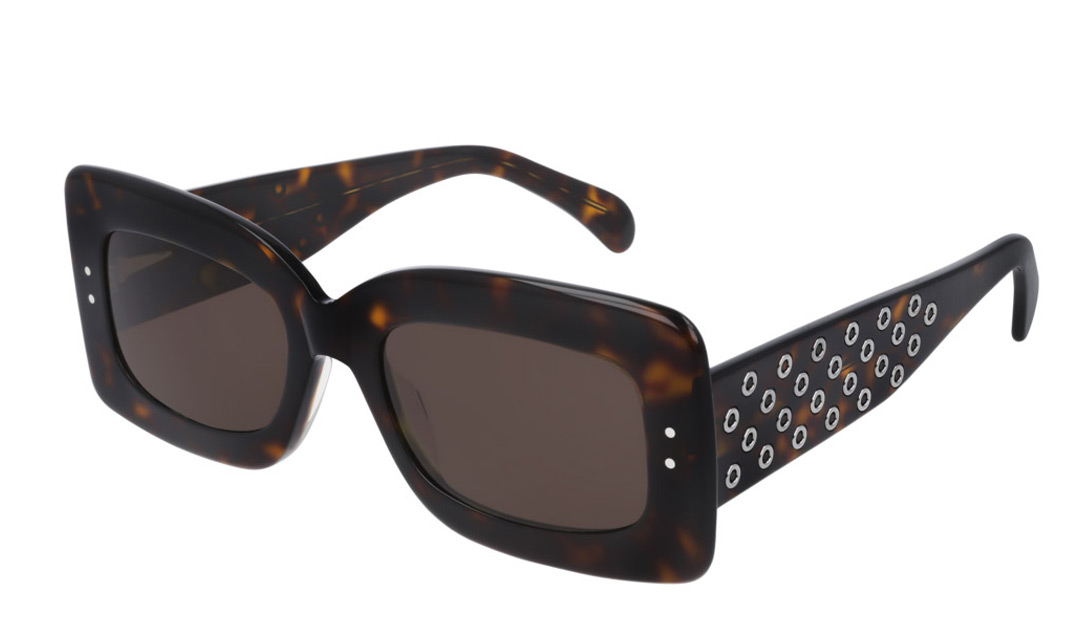 Get Azzedine Alaïa sunglasses AA0029S here
AA0004S
This vintage oval-shaped sunglasses are inspired by the fifties of the past century. The acetate model is distinctive with metal micro studs on the frame and temples and laser pattern on the inside.Wearing such a stunning eyewear piece will make you stay a step ahead of the fashion trends.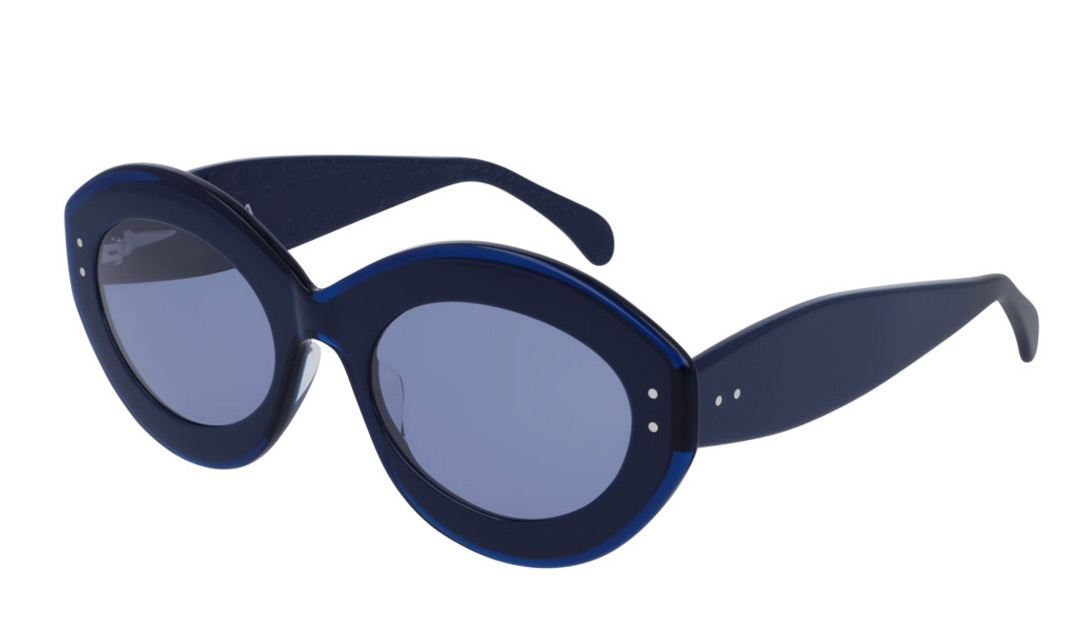 Get Azzedine Alaïa sunglasses AA0004S here
AA0010S
This squared-shaped flat-top sunglass model combines retro allure and modern refinement. The emblematic arabesque motif is a really chic element looking so graceful on a black thin acetate frame. Without doubts these shades look effortlessly cool and will help you to express yourself in a new way.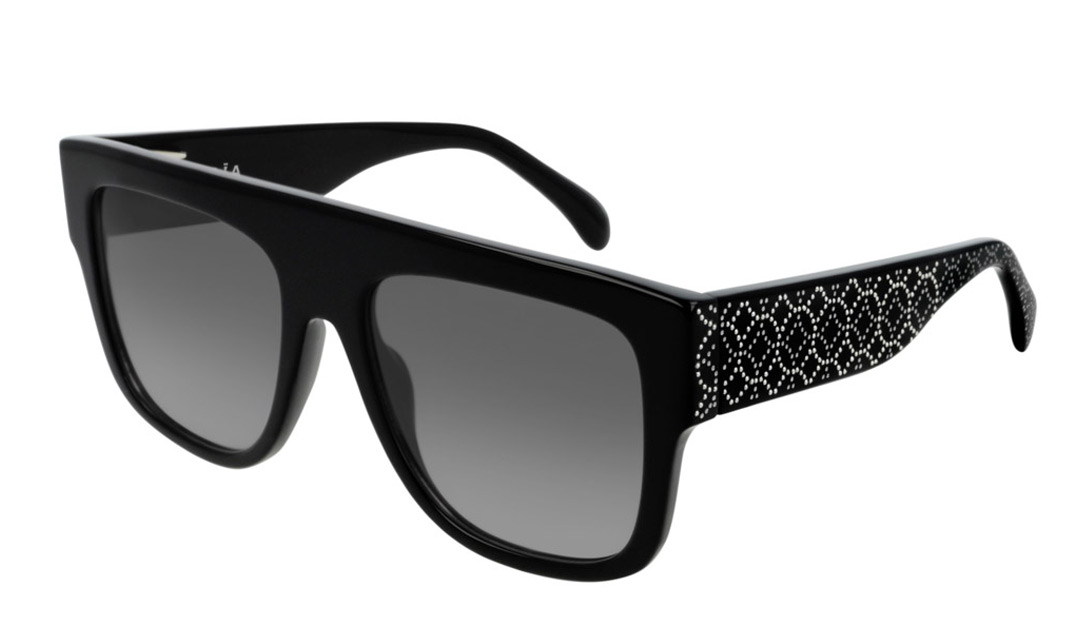 Get Azzedine Alaïa sunglasses AA0010S here
Created in collaboration with Kering group the eyewear echoes the colors of the famous Parisian fashion house: black, powder pink and blue. See all sunglasses by Azzedine Alaïa here.