Versace is one of the most famous and respected brands that can offer not just good-looking clothes and shoes, but trendy eyewear as well. The Italian company's rise in the fashion world began in 1978 – the founder Gianni Versace named it after himself and managed to turn it into one of the most recognizable designer houses in the industry. At the time, the taste for simple and neutral colors prevailed but Gianni turned things around by setting new trends. He preferred vivid colors and bold design decisions, and that, in turn, became a real sensation. Contrasting with the trends for muted tones and simplicity, Versace's fashion vision was a breath of fresh air.
For sure, Gianni Versace shared the corporation's success with his family – his sister Donatella took the position of a vice president, his brother Santo became the president of the company, and his brother-in-law Paul Beck, also known as Donatella's husband, managed to take a job of a menswear director. Interestingly, the fashion house was undoubtedly connected to Gianni's southern Italian heritage – we can ensure you it is 100% true. For instance, the fashion house's logo embodies the Medusa head along with the Greek key. What about the products themselves, they were and still are often inspired by the movements of history and art, and the Graeco-Roman age is an essential part of this impact.
Throughout Gianni Versace's prolific career, he also worked as a costume designer and created numerous outfits for artists and stage productions. He once said that theatre is a type of liberation for him, and this is the area where he could easily express himself in his works. Besides costumes for theatre performances, Versace also was engaged in designing looks for such celebrities as Michael Jackson, Paul McCartney, and Elton John. Many famous people around the globe appreciate Gianni's work and legacy getting the goods from his brand and refreshing their wardrobes with new clothes and accessories.

Seeing as we're approaching the accessories part, it should be noted that the collection of Versace's summer eyewear for women offers fully-functional frames that can meet different needs, moods, personalities, tastes, and requests. Bold and innovative sunglasses are crafted from durable, lightweight, and flexible materials, including metal and plastic. The manufacturers approach the summer eyewear production with huge attention to every detail. This way, the sunglasses feature unmatched quality and life-long service. So, if you're looking for a decent pair of sunnies, you have come to the right place.

Every frame from Vercase is a unique accessory that contains a firm logo on the inside of the temple. Browse through an excellent variety of women's sunglasses that come in different shapes, styles, and colors. With this brand's sunnies, you get a modern look with a bold choice of accessories. The collection will deliver 100% protection from ultraviolet radiation, dust, and wind. On EyeOns, we introduce a wide assortment of Versace's summer eyewear and ensure you receive maximum comfort. Whether you are looking for an eccentric model of sunnies or something more classic, you can browse through the whole assortment and choose the most appealing accessory.
VE4425U
Versace introduced an amazing pair of Irregular sunglasses featuring an unusual shape and providing a high level of eye protection. Consider getting this unique summer eyewear for a casual look – you will become the talk of the town in just a moment!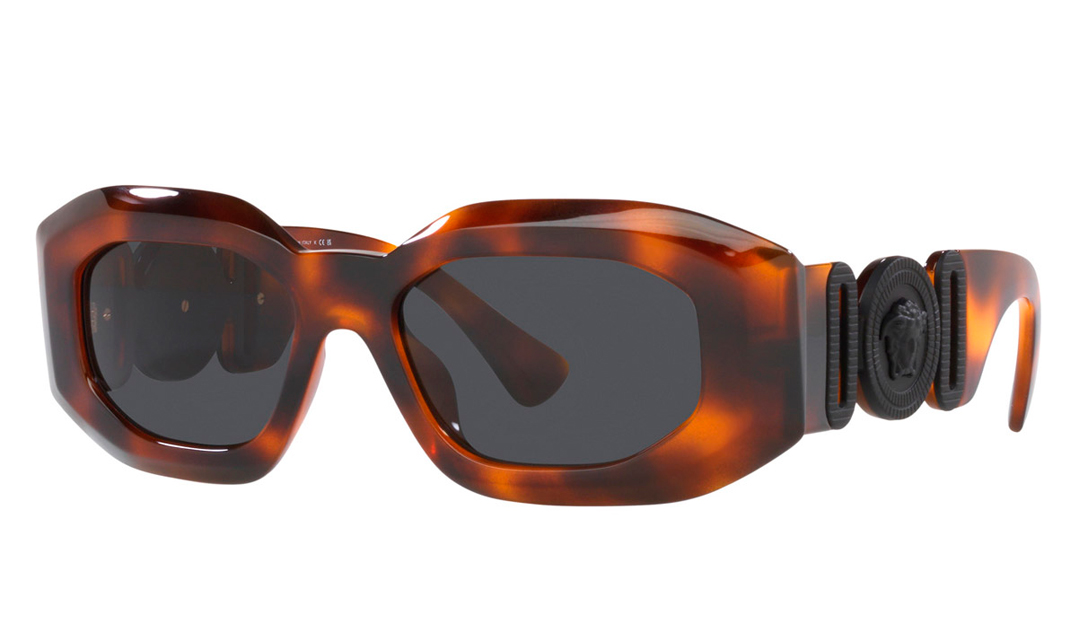 Versace sunglasses VE4425U – View in store
VE2249
These Aviator sunnies will win many hearts as they can complete a look adding a note of elegance to the final result. The design combines both creativity and classy style, and considering these sunnies are crafted from metal, you will receive a durable and hard-to-crack accessory.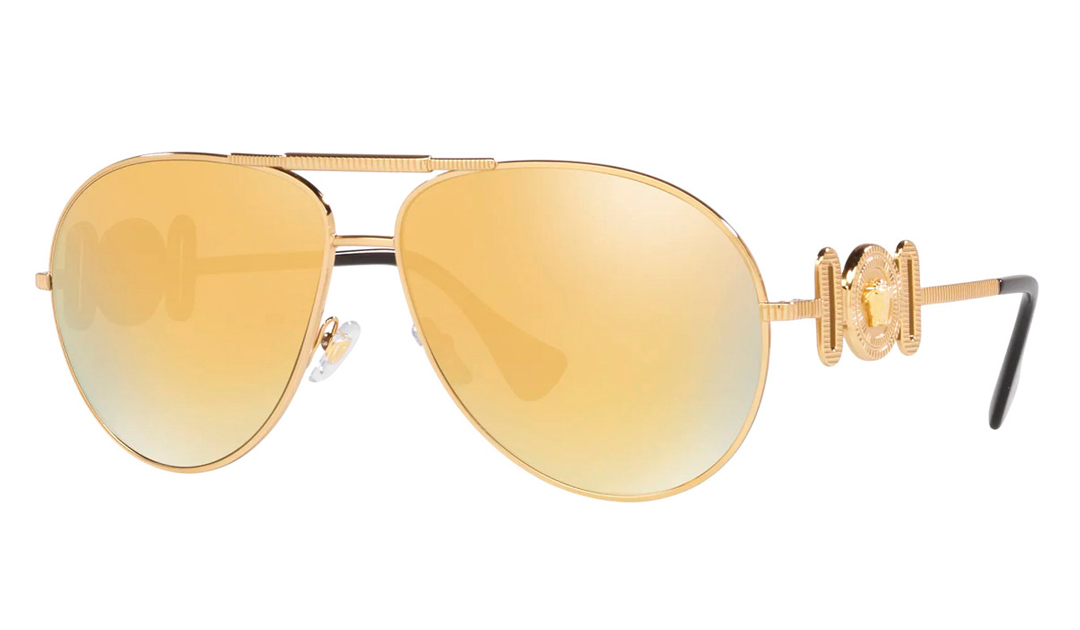 Versace sunglasses VE2249 – View in store
VE4424U
This is one of the most voguish summer eyewear options ever! Made from plastic, this model guarantees durability, sturdiness, and a great level of glare resistance. Along with these features, it can become both a great eye coverage and stylish accessory that completes an outfit adding a note of elegance and creativity.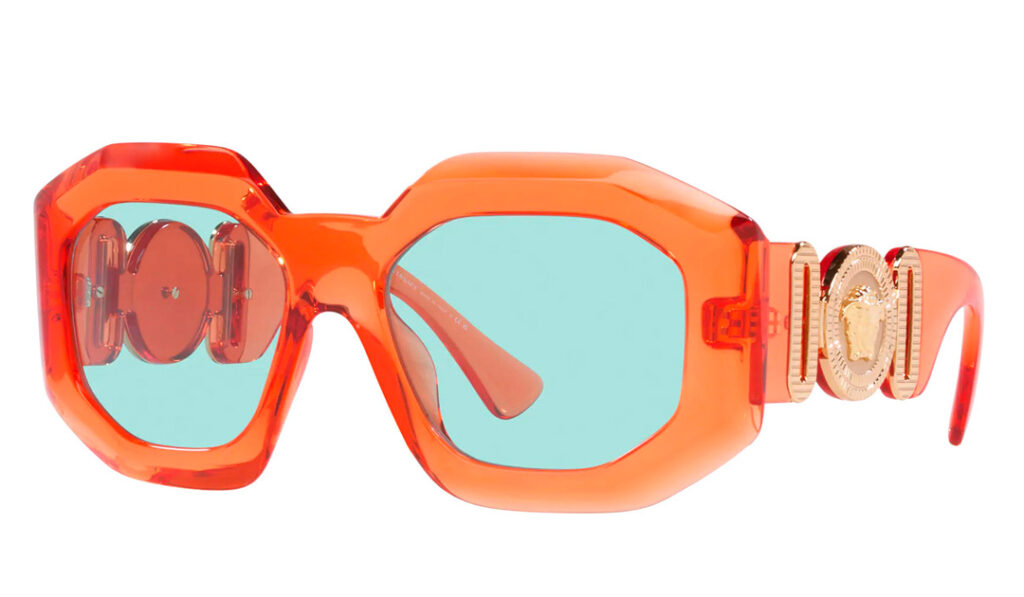 Versace sunglasses VE4424U – View in store
VE4419
Last but not least, these Versace sunglasses are probably the most trendy so far – this is due to the interesting design of temples that comes in a shape of a maze. It's best if you wear your hair up to make an accent on this stylish accessory. Don't be afraid to experiment and reveal your inner fashionista.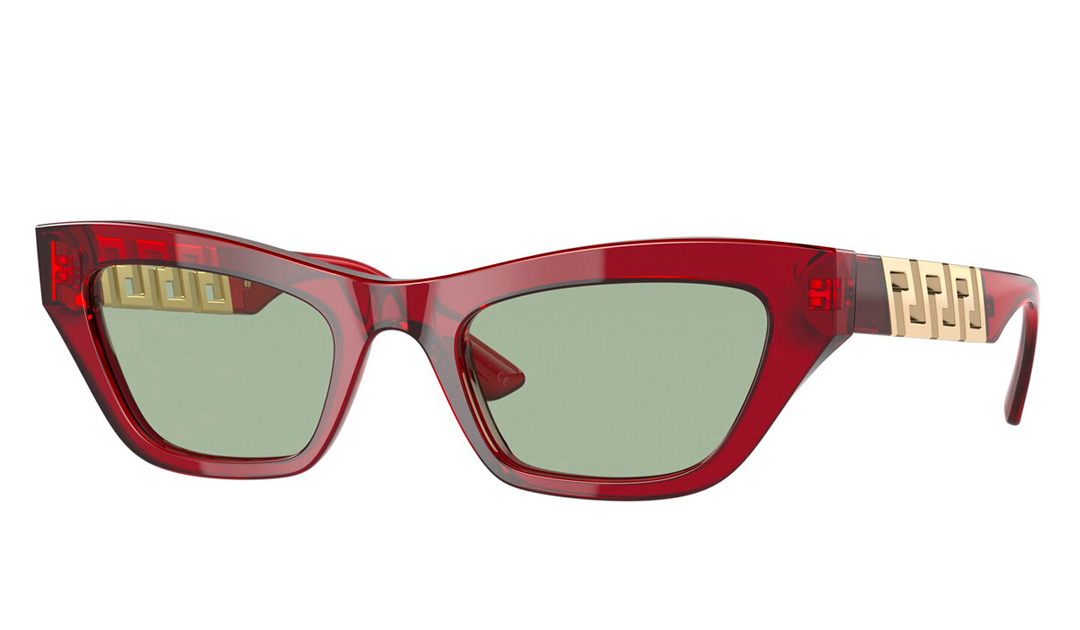 Versace sunglasses VE4419 – View in store
Choose the most appealing sunglasses from Versace and express your bright personality. Get maximum protection from ultraviolet radiation, come up with eye-catching looks and be ready to stand out from the pack!